About Department:
This institution was begun its illustrious history in the year 1966. The institution is making all sorts of efforts to achieve its noble mission of providing value based education to the socially and economically deprived rural students at affordable cost by admitting them at lowest possible cost/fee.
The Kannada department is the biggest department among all the departments in the entire institution. Since from the inception many faculty members have served in this department with great knowledge and teaching skills.
At present the following faculty members are serving the department: Dr.B.S.Manjula (Head of the Department), Prof.Y.M.Padmaja, Mallikarjunaiah Dr.Rekha Himanand, Muniyappa N, Suresh K.C and Leelavathi H
The Department has started a Kannada Forum named after "B.M.Shree Kannada Sangha" on 11.10.2006. The Forum activities have been conducted regularly during all academic year by inviting subject experts to give special lectures on different topics. The department will be having great opportunity to interact with students from all programme as Kannada subject is being the compulsory subject.
The department members are actively involved in different committees to enrich the standards of institution as a whole like Cultural, NSS, Magazine, Sports, Admission, Midday Meals and Disciplinary.
The department will organize educational tours. The department will ensure that the students and teachers co-ordination in entire curriculum by conducting workshops, screening of PPTS and screening of movies. 
The department comprises of committed, dedicated and academically excellent faculty which thrives towards the excellence in academic and overall development of students as a whole.
HOD, Kannada
Dr. Padmaja.Y.M
M.A,M.Phil, K-SET,Ph.D
---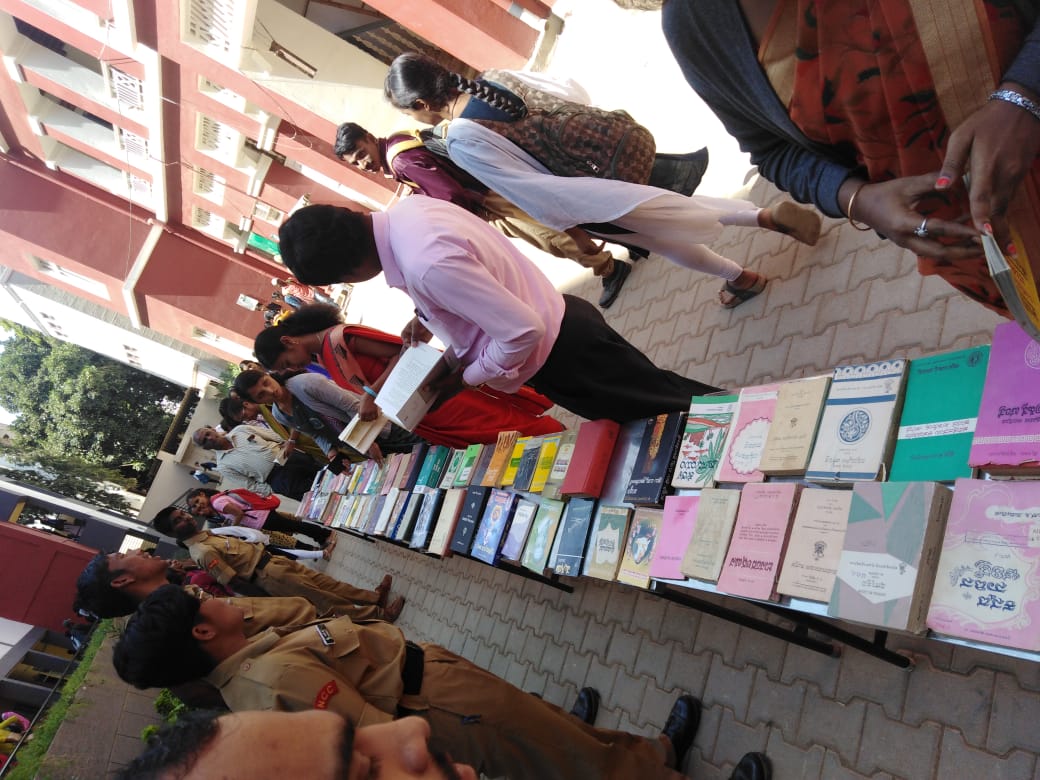 Our Vision
To instill cultural, ethical, spiritual and moral values and         excellence through the study of Kannada language and literature.
Our Mission
To introduce the glory of Kannada literature through the ages and its contribution to the world of Knowledge to expose students to the branches of Kannada literature like poetry Prose, phonetics, grammar and epics.

To imbibe human values through literature

To make Students Self reliant, cultured, productive and enlightened citizens.

To develop good communication skills for better employment opportunities.
Course Outcomes [CO's]
It is the legitimate, pride of our Department to takes Kannada on second language to all the stream of undergraduate students. Kannada is one of the ancient languages of India. Kannada is compulsory paper for all Courses viz, BA, BCOM, BSC and BCA in our College.
Programme Outcomes [PO's]
Kannada as a regional language in Karnataka plays a pivotal role, which is described as follows:
Programme Outcomes
PO1. It helps the students to share their ideas, opinions, feelings and emotions freely and happily with good command on they own it.
PO2. Opting Kannada language at their under graduate level provides generation.
PO3. Promote leadership qualities through oration
PO4. Mould the students into an accommodative, broad minded and duty minded citizens with good behaviour and character
PO5. Make the students free from visuals as to develop love to Indian culture and heritage through Kannada literature.
PO6. It helps in cognitive as well as intellectual development. Research has shown time and again that when students are able to speak their mother tongue well, not only do they experience better cognitive development but also better intellectual development*.
PO7. It helps in second language learning. Don't most parents want their children to speak great English? What if I told you that learning English, or any other language for that matter, depends on how well the child has learnt their mother tongue?
PO8. It helps you connect with your culture and people. Our languages keep our cultural heritage alive. Cultural information read or heard in a foreign language can be difficult to understand or identify with, owing to a loss of meaning, impact and context.
Programme Specific Outcomes [PSO's]
PSO1. Teaching in Kannada, especially as a second language facilitates the students remember the most pleasing mother tongue throughout their life and to make them luminous on various aspects from the selected curricular topics.
PSO2. It also assists to imprecise the creative skills which enable them to stand as elite in the competitive world.
PSO3. On successful completion of the Programme, the students will be accurate both in oral and written communication as they will be strong in grammar and its usage.
PSO4. They can apply critical frameworks to analyse the linguistic, cultural and historical background of texts written in Kannada. They will be familiar with the conventions of diverse textual genres including fiction, non-fiction, poetry, autobiography, biography, journal, film, plays, editorials etc.
PSO5. Studying Kannada language they will inculcate with good in-depth knowledge with relating to its origin, development and evolution as a whole with modernisation and impact of other languages like English as a westernisation.
PSO6. They can improve their capacity to evaluate their life as they can analyse with great emotions and feelings which learnt while studying Kannada as a major subject.
PSO7. They can improve their analytical ability by comparing with the actual life and the knowledge gained while studying Kannada as a major subject.
Faculty Details
Sl. No.
Name of the Staff
Designation
Qualification
TEACHING STAFF
1
Dr.Padmaja.Y.M
Assistant Professor

HOD

M.A,M.Phil,KSET,Ph.D
2
Dr.Rekha Himanad
Assistant Professor
M.A,NET,KSET,Ph.D
3
Dr.Basavaraju.P
Assistant Professor
M.A,M.Phil,KSET,Ph.D
4
Dr.Nalina
Assistant Professor
M.A,M.Phil,KSET,Ph.D
Non-Teaching Staff
1.
Ravindra. N
Peon
PUC