Health is a state of complete physical, mental and social well being and not merely the absence of disease or infirmity. Health Education provides knowledge on health related aspects and develops the attitude of people to maintain sound health. There are many factors that affect our health, its everyone's right to know about the factors affecting it and the instructions to attain positive health.
Health checkups: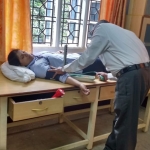 As students are the backbone of our college, health of every student is very important so we decided to organised health checkups to all students of our college. With this idea we approached Dr.R.Shivaprasad B.Sc,MBBS, he happily accepted our request and planned to conduct checkups every Tuesdays and Fridays at 3 PM in health center of all working days in batches of 50 students a day. An allotment was planned and Proctors of all class were informed to assemble the students for checkups. The Height, Weight of each student was recorded and students underwent regular medical examination, If any further investigation was needed the students were recalled for checkups and intimated to parents if any serious issues where found.
The health check program ran successfully for more than 25 weeks and we completed checkups of all students with the support of all staff and students. An Interactive session was organized with doctor on 12th March 2019 at 3 pm in seminar hall where students discussed about their doubts regarding health and doctor clarified each and every students.
Counseling Cell           
SSCASC ensures a student-friendly ambience. The constitution of the Counseling Cell is a part of our incessant effort to create a conducive atmosphere. This cell consisting of trained and experienced counselor Smt. Dakshanyani H.S, Mental Health Counselor, DMHP Tumkur who visit our college every Wednesday at 10:30 am to 12:30 am.
The mission of counseling cell is to promote students' well-being, aiding to develop better understanding of the self, to grow both intellectually and emotionally, to be more satisfied and productive and improve the depth and quality of life. To hike sound mental health, the counselor help in dealing with emotional and behavioral problems like guilt, anxiety, stress, lack of confidence, low self- esteem, depression and internet addiction etc. Counseling cell does fostering and inculcating life skills to make better adjustments and enriching healthy relationships.
                                                                                                             Shruthi.P
                                                                                                                                Convenor
                                                                                                                     Lecturer, Dept of Comp Sc